Calvi murder: The mystery of God's banker
【THE Independentより以下、転載】
It was a trial which promised to solve the 25-year old case of Roberto Calvi, who was found hanged under Blackfriars Bridge. But yesterday a judge acquitted all five defendants
By Peter Popham and Philip Willan in Rome and Robert Verkaik
Published: 07 June 2007

Twenty-five years after the event, the trial of the alleged killers of Roberto Calvi has ended with the sensational acquittal of all five defendants: a Sardinian property dealer and his mistress, a Mafia accountant already serving life for other offences, a Roman loan shark and the banker's one-time bodyguard, all are absolved.

Yet it would be a mistake to say we are back at square one. In the snail-like progress of this case since that day in June 1982 when the Italian banker was found at the end of a rope under Blackfriars Bridge, there has been a major step forward. Evidence strong enough to convict the five was missing, decided Judge Mario Lucio d'Andria. But there is no longer much room for doubt that Roberto Calvi was murdered.

It was a Daily Express postal clerk on his way to work on 21 June 1982 who, glancing over the parapet of the embankment, noticed the length of orange nylon rope lashed to a scaffolding pole under the bridge; and then in horror and disbelief the head and besuited body of the banker, hanged by the neck from the scaffolding, his feet just trailing in the filthy water.

Calvi was wearing an expensive grey suit and handmade shoes and had more than £7,000 in various currencies in his pockets. Yet the City of London police rushed through the investigation of a death they seemed determined to record as the sad but unimportant suicide of a foreign tramp. For all his astronomical debts and legal nightmares, Roberto Calvi was no tramp. Nor, we can now be sure, was he a suicide.

A cold, shy, stubborn man from the mountains north of Milan, Calvi in his prime was one of the most brilliant bankers in Italy, rising rapidly through the ranks of the private Banco Ambrosiano, which had been founded by a priest and had long had close relations with the Vatican's bank, the Istituto per le Opere di Religione or IOR. Despite the murder trial that finished yesterday, the true nature and extent of those relations has never been clearly explained; the man who could have spilt the beans if he had wished to, the American archbishop, Paul Marcinkus, who ran it during the crucial years, died aged 85 shortly before he could give evidence. Yet there are many close observers of the hermetic worlds of Italian politics, business and organised crime who believe his secret dealings with the IOR - an offshore bank conveniently located in Vatican City, in the heart of Rome - were one of the key factors that led Calvi to his grotesque death.

For all his brilliance, Calvi landed in desperate trouble. As well as co-operating closely with the Vatican's bankers, he also got into bed with the Sicilian Mafia, setting up a network of offshore shell companies which enabled them to launder the proceeds of the heroin trade. Additionally he became a member of P2, the secret Masonic lodge to which hundreds of Italian politicians, businessmen, secret service agents, policemen, civil servants and others belonged, and which became a sort of state within the Italian state, manipulating the direction of the country from a strong right-wing position, exerting a profound but long undetected influence on government decision-making.

The Vatican, the Mafia, P2; three drastically diverse worlds, linked by the fact that Italy was, throughout the Cold War, a key frontline player in East-West relations; possessor of the biggest Communist Party in western Europe (which, thanks to the efforts of the United States, was kept out of power until a decade ago). According to one of the more persuasive theories swirling around the Calvi case, the Milanese banker became a pivotal player not only in the laundering of Mafia money, but in the secret channelling of large sums from the Vatican to the the struggle of the trade union Solidarity against Poland's communist government. It was a struggle which, since the accession to the papacy of the Polish cardinal Karol Wojtyla in 1978, had become a matter of vital importance for the Vatican; it was also close to the heart of the Reagan administration in Washington. That other switch of funds in the Cold War, from illicit sales of arms to Iran to funding the Contras in Nicaragua, which became public in 1987, revealed to the world at large the vital importance to the secret services of untraceable funds - hence the temptation to cultivate close relations with organised crime. Calvi, it is claimed, was a central figure in this other, more obscure finance campaign, which unlike the Iran-Contras affair was successfully kept under wraps.

Calvi was one of the men who knew a lot about a lot. For years he handled the affairs of his highly disparate clients with flair, rewarding them with fat rates of interest, managing the illegal funding of political parties, playing midwife to secret arms deals, laundering Mafia profits. But the key to the high-rolling success of such deals - his network of offshore shell companies - was also the cause of his downfall.

The man who later boasted that he taught Calvi all he knew about tax havens, the Sicilian financier Michele Sindona, was reckless in a way that Calvi had never been. The two became ever more closely tied by secret financial favours - but when an American bank Sindona controlled, the Franklin National Bank of New York, collapsed in 1974, Calvi refused to bail him out to the extent Sindona believed he deserved. He began putting pressure on Calvi to give more, pressure that yielded a poisonous publicity campaign against Calvi, prompting the Bank of Italy to send in its inspectors.

In 1978 the Bank of Italy concluded that Calvi's Banco Ambrosiano had exported several billion lira illegally, prompting a criminal investigation. The Banco Ambrosiano was suddenly in meltdown, and Roberto Calvi's nightmare was under way. On 20 May 1981, finance police officers rang Calvi's doorbell at dawn, with the news that the banker was under arrest and would be taken to prison for interrogation. Inside, he attempted suicide.

He was convicted of currency law violation and given a suspended four-year sentence. But his troubles were only beginning. The bank, it was revealed, was hundreds of millions of dollars in debt. In terror of being imprisoned again, fearful also that mafiosi to whom he owed hundreds of millions would now take their revenge, in June 1982 Calvi went on the run.

Why he ended up in London remains obscure to this day. Escorted by two of the men yesterday acquitted of his murder, Flavio Carboni, a playboy and property developer, and Silvano Vittor, a smuggler based in Trieste who acted as his bodyguard, he left Italy under a false identity, travelling by speedboat to Yugoslavia, from there to Austria and by private plane to Britain. In London, he checked into a cheap residential hotel, the Chelsea Cloisters, and remained incommunicado.

Evidence that has emerged since Calvi's death indicates he was trying to stave off ruin by threatening to reveal awkward secrets of the Vatican and other big Ambrosiano clients if they did not bail him out.

For six years after he died, the official view was that he had killed himself. He certainly had good reason to - the day before his death he had been stripped of his chairmanship in the bank, and his private secretary had jumped to her death. But his son Carlo began his campaign to prove that his father had been murdered, and at a trial for insurance purposes in 1988 the judge agreed with him. In the late 1990s new forensic methods were applied to the now ageing evidence and the results reinforced the murder theory. In October 2005 the murder trial got under way.

Held in a fortified courtroom next to a jail on the outskirts of Rome, the proceedings dragged on for a year and a half. The chief prosecutor, Luca Tescaroli, claimed that the four men accused had lured Calvi to London, where he had been handed over to his assassins - members of Italian organised crime. Carboni, a Sardinian businessman with links to former prime minister Silvio Berlusconi, now imprisoned Mafia boss Pippo Calo, former contraband smuggler Vittor, and Roman loan-shark Ernesto Diotallevi, conspired together to murder Calvi, the prosecutor claimed. The group wanted to punish the banker for losing money belonging to the Cosa Nostra and to prevent him from blackmailing former accomplices in the Vatican, the P2 masonic lodge and Italian political parties.

According to a Mafia supergrass, Calo engaged an assassin called Francesco di Carlo to carry out the murder. But the allegation may have been an attempt to divert attention away from the true culprits.

Some of the most powerful prosecution evidence came from the Mafia turncoat Antonino Giuffre. He accused Carboni of playing the traitor's role in a classic Mafia murder conspiracy: first gaining the victim's confidence and then delivering him for execution. Members of his own Mafia family had participated in the plot, Giuffre claimed.

The Mafia accountant, Calo, accused of ordering the killing to punish Calvi for embezzling Cosa Nostra's funds, and who had followed the trial by video link from the maximum security prison where he is serving life for other Mafia crimes, told the court that he would never have turned to the criminals allegedly responsible for strangling Calvi because they were in rival organisations or banned in disgrace from Cosa Nostra. And in any case, he told the court, there were plenty of hitman at his disposal.

The judged ordered the acquittal of four defendants for lack of proof; the fifth, Carboni's girlfriend, was given a full acquittal. Only one of the defendants was in court to hear the verdict, Ernesto Diotallevi, the loan shark. Luca Tescaroli, the prosecutor, said he would have to read the written explanation of the verdict that the judges must produce over the next three months before deciding whether or not to appeal. He said it was important that the court had confirmed that Calvi had been murdered. "The very fact of holding a trial at all after 25 years is a success," he claimed. But for those who have been following the Calvi case the unanswered questions continue to tantalise.
全訳を書こうと思ったが、断念したのでポイントだけ列挙すると。
バチカン銀行に多額の融資をしていたイタリア一の大銀行であるアンブロシアーノ銀行の頭取ロベルト・カルビの死について、殺人罪を問われていた5人に無罪判決が出た。
当初は自殺とは思えないような証拠がたくさんあったのに、何故か自殺として処理されていて誰もその事件に触れたがらなかった点や、カルビ氏があの悪名高き秘密結社P2の構成員であったこと、マフィアのマネーロンダリングにも関わったいたこととか、不合理な判決に至るまでの詳しい事情が分かっている範囲でだが、実に詳しく書かれている。
コーザ・ノストラやニカラグアのコントラとか普通に出てくるし、バチカンのポーランドの共産政権に対する闘争資金の秘密チャンネルになっていたことなどなど、何でもありの世界であったことが書かれています。カルビさん、そりゃ畳の上で死ねないでしょう。
いやあ~、凄いです。ここまで書くか、さすがインディペンダント(どこまで裏付けとってあるか疑問だけどね)。BBCとかではそこまでよう書かんって! 
実に貴重な情報が詰まっていますので、興味がある方は頑張って読んでみる価値ありです。実に、面白いです。なんとも生臭い話ですけど。
同じニュースについて、BBCの記事では以下のように淡々と書かれています。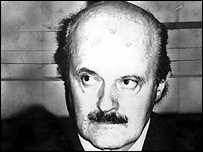 Five acquitted over Calvi death
【BBCより以下、転載】
Five acquitted over Calvi death

Calvi's body was found hanging from a London bridge in 1982
A court in Rome has acquitted all five defendants of murder charges in the 1982 death of Roberto Calvi, known as "God's Banker" for his Vatican ties.

Mr Calvi, the chairman of a private Italian bank, Banco Ambrosiano, was found hanging from scaffolding under London's Blackfriars Bridge in 1982.

A British inquest ruled the death suicide, but the case was reopened at the insistence of Mr Calvi's family.

Mr Calvi died as his bank collapsed in one of Italy's largest fraud scandals.

City of London Police, who initially investigated Mr Calvi's death, said it was "disappointing for Roberto Calvi's family in particular that those responsible for his murder have still not faced justice".

In a statement, the City of London Police said they had "worked closely with the Italian authorities since 2003 to bring this case to a successful conclusion."

Cleared of murder charges are Giuseppe Calo, alleged to be a cashier for the Sicilian Mafia; Mr Calvi's close associate, businessman Flavio Carboni; businessman Ernesto Diotallevi; Mr Calvi's bodyguard and driver Silvano Vittor; and Mr Carboni's ex-girlfriend Manuela Kleinszig.

Calo has been in prison since the 1980s on Mafia charges unrelated to Mr Calvi's death.

Prosecutors had said Ms Kleinszig should be acquitted due lack of evidence but had asked for life sentences for the other four.

The prosecution alleged that they lured Mr Calvi to London and into the hands of his murderers.

Unanswered questions

Mr Calvi was linked to the Vatican bank, and prosecutors also said he was laundering money for the Mafia.

Mob bosses feared he knew where their money was going and where it was hidden and was preparing to tell all, prosecutors said.

In June 1982, his private bank collapsed with debts of $1.5bn (£750m).

An investigation began in Italy but, a few days later, Calvi's body was hanging from Blackfriars Bridge in London.

Cash and stones were stuffed into his pockets.

The first inquest ruled it was suicide but years later his body was exhumed, revealing clues suggesting he had been murdered.

Forensic tests conducted in 2003 concluded there was no evidence on Mr Calvi's shoes and clothing that he had climbed the scaffolding, indicating he had been killed elsewhere.

The two-year trial leaves more questions than answers, says the BBC's Christian Fraser in Rome.

The defence suggested more than once that there were plenty of others who had a motive for murder - some of them within the Vatican - and they said any number of these parties could have collaborated and silenced Roberto Calvi.
関連ブログ
「神の銀行家」変死、マフィアら無罪 謎解けぬまま…
「法王の銀行家」殺害で4人起訴 CNN
「教皇の銀行家」殺害で4人を起訴
「世界を支配する秘密結社 謎と真相」 新人物往来社
「法王暗殺」より、抜き書き
「法王暗殺」デイヴィッド・ヤロップ 文芸春秋
「バチカン・ミステリー」ジョン コーンウェル 徳間書店
法王の銀行家 2002年の映画